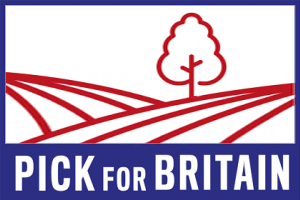 Seasonal Workers 'Pick for Britain' campaign
Launch of new Pick for Britain Portal
 British Growers has been working with several industry stakeholders to ensure that growers have the seasonal workers they need to harvest fruit and vegetables over the coming months. We wanted to let you know that a new website was launched today to support this effort. This is a joint Defra and industry initiative to bring together those who are looking for work on UK farms over the harvest period with recruiters who have roles to fill. The website will act as a central hub to signpost people to the jobs available and to provide information about this type of work.
The website will have links to the government 'Find A Job' portal to enable individuals to search for jobs by type and location. The aim is also to provide links to a wide range of recruitment campaigns organised by labour providers. The website is hosted by AHDB and has been developed by AHDB, NFU, British Growers, ALP and Defra. More information will be added to the website over the coming weeks.
We're recommending that growers post seasonal worker vacancies on to the DWP 'Find A Job' website, which will ensure a wide reach of potential applicants – including those people who are looking for work as a result of COVID-19 related redundancies or furloughing. The Find a Job website has more than 1.6 million registered users.
The launch of the hub is the first initiative Defra is launching to support growers in bringing home the harvest of 2020. The employment situation is likely to be very fluid and subject to considerable change as the season progresses. Defra is very keen to work with the industry to address the seasonal labour issues and will continue to monitor take up of seasonal roles and evaluate the success of the hub and other supporting initiatives.
Link to the hub: PICK FOR BRITAIN