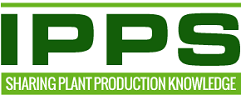 We are extremely proud to announce that International Plant Propagators Society (Europe) has chosen to join British Growers for the provision of their business services.
Starting in North America in the 1950s, IPPS has had a regional branch in Europe since 1968 when the Great Britain and Ireland Region began. A Scandinavian Region followed in 1992. The two later merged and became IPPS European Region in 2014 and have members now in most European countries.
IPPS is now a global network of plant production professionals, with over 1600 members and in all sectors of plant production, from primary producers to research professionals. Their motto is to "seek and share" information with likeminded professionals and aims to improve the knowledge, skills and professionalism of its members. The network puts members in touch with people working in plant production, research, botanic gardens and education in Australia, New Zealand, Japan, Southern Africa and North America; and their unique archive of technical presentations at conferences in all their regional branches, going back more than 50 years, is available to all members.
Please click the link to discover more about IPPS.
Tim Lawrance-Owen from IPPS Europe and an IPPS International Board Director commented on joining British Growers:
"The European Region of the IPPS (International Plant Propagators' Society) who join to seek and share plant production knowledge worldwide, was seeking to appoint a new Secretary to administer their affairs. Historically one person has undertaken this, with Board members giving their time to help. British Growers Association was recommended to us as having all the facilities required led by a team of experts in administration, finance and communication. The transition to British Growers has been a pleasure facilitated by the team allocated to us. The contact has been very friendly, helpful and understanding, all done under 'lockdown'. We are relieved to know that the British Growers has the capacity to help us for many years, giving much needed continuity! "
And at British Growers Pauline Sutton, Crop Association Executive, remarked:
"I am absolutely delighted to have been given the opportunity to work with IPPS as their Client Manager. It has been a pleasure engaging with Tim and his colleagues during the transition and look forward to a prosperous relationship."