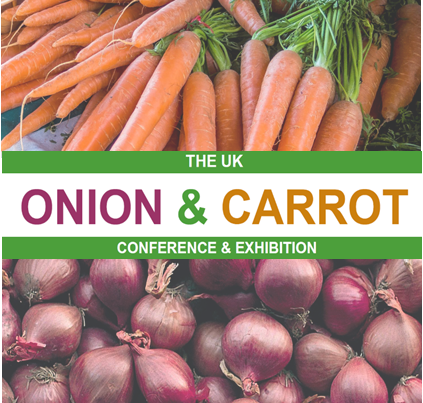 The Onion and Carrot Conference is back!
The two associations have come together once again to bring you the 2022 Onion and Carrot Conference, representing two of the largest sectors of horticulture. The event will take place at the East of England Arena & Events Centre in Peterborough on Tuesday 29th November 2022 and will comprise of a conference day and a gala dinner in the evening.
The conference will bring together the latest industry updates, emerging technologies and research as well as providing a platform for invaluable networking.
The event will host a large exhibition area and allow plenty of networking opportunities for delegates and exhibitors. Further information about the exhibition options and also a registration form if you would like to book a stand are available at the end of this news item. For more information on our event please visit our website http://www.onionandcarrotconference.co.uk/
We owe a massive thanks to the companies that support our event through sponsorship or by exhibiting. Without your support we would not be able to host our prestigious event.
On behalf of the organising committee, we look forward to welcoming you to the 2022 Onion & Carrot Conference on Tuesday 29th November 2022.
Information for Exhibitors 2022