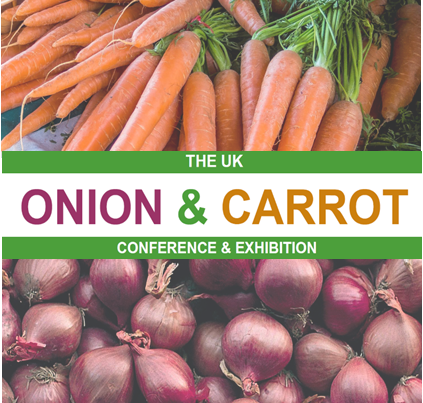 The Onion and Carrot Conference is back for 2022.
The Associations for British Carrots and British Onions have come together once again to bring you the 2022 Onion & Carrot Conference, taking place at the East of England Arena & Events Centre in Peterborough on Tuesday 29th November 2022
The organising committee are pleased to announce that Elsoms and Bejo Zaden will be taking on one of the Conference's Main Sponsor slots. We are thrilled to have the support of such prestigious companies to assist in the support and organisation of the industry's conference.
"As the key supplier of Carrot and Onion seeds to UK Growers Bejo/Elsoms are proud and delighted to support the Carrot and Onion Conference this year. It is great news that the BCGA and BOPA are able to hold the event again and we look forward to a great conference and dinner. We're sure it will be a great success and wish everyone all the best after what has been a very challenging few years for the industry. It will be a really good opportunity to meet with everyone again and catch up on technical updates"
Chris Bettison, Elsoms
We would also like to take this opportunity to report that Stourgarden will be sponsoring the Conference Programme, Hazera have agreed to sponsor the Gala Dinner Drinks Reception and Moulton Bulb Co are kindly sponsoring the Gala Dinner Wine.
We owe a massive thanks to the companies that support our event through sponsorship and exhibiting at the event.
The event will host a large exhibition area and allow plenty of networking opportunities for delegates and exhibitors. If you would like further information about our sponsorship and exhibition options, please visit our website http://www.onionandcarrotconference.co.uk/.
Speaker announcements will be made over the coming months, we will look forward to sharing our line up with you.
We are also pleased to announce that ticket sales are now on sale. Buy your tickets here: https://www.eventbrite.co.uk/e/onion-carrot-conference-2022-tickets-290282933067
On behalf of the organising committee, we look forward to welcoming you to the 2022 Onion & Carrot Conference on Tuesday 29th November 2022.