Could your surplus food be a lifeline for charities?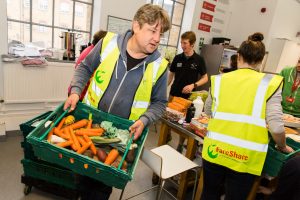 Globally, one third of the food we produce is wasted. When you consider the resources involved in growing, preparing and transporting the food, that figure is even more shocking. Until now, there's been very little incentive for growers to offer their surplus food to charities
because the cost of harvesting and transporting unwanted crops left them out of pocket. That inevitably meant it was often seen as easier to plough crops that could have been eaten by people back into the ground or send them to anaerobic digestion than to give them to those in need.  But, with a growing 'zero waste' movement, and increasing pressure from consumers, growers and food businesses are waking up to the problem and pledging to take action – redistributing their edible surplus to frontline charities where it can do the most good.
FareShare is the UK's largest food redistribution charity, taking in-date surplus from growers, packers, manufacturers, suppliers and retailers and the hospitality sector and redistributing it through a network of 11,00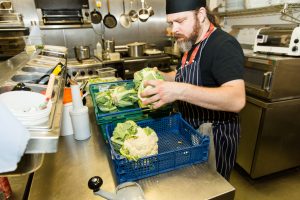 0 frontline organisations, such as homeless hostels, school breakfast clubs, food banks and hospices. Jo Dyson, FareShare's Head of Food, at FareShare, says: "In five years the amount of food we've delivered to charities has tripled reflecting the increasing priority that many businesses are placing on tackling food waste in the most socially responsible way. We really appreciate the support we receive from industry, however there is still a lot to do."
Despite the organisation's size and reach, FareShare is currently only re-distributing eight per cent of the UK's surplus and as Jo Dyson explains: "According to WRAP, over three tonnes of food is wasted before it even leaves UK farms, or is used to feed animals rather than people. Assuming two thirds of this could have been eaten, that's enough to create over four and a half billion meals for UK citizens each year…a staggering figure."
FareShare works with more than 500 companies across the supply chain – from growers to packers and food processers, hauliers, food retailers and hospitality chains, and big brands to small, independent producers.
"Surplus is inevitable, but food waste doesn't have to be," says Jo Dyson. "We have 21 regional centres across the UK – which puts us at a huge advantage because we can quickly and safely transport surplus food into our network and redistribute it onwards to frontline charities supporting those in need."
Crucially, previous disincentives for growers to 'do the right thing' with their surplus have now been removed. This year DEFRA announced a new fund which aims to make diverting surplus food to charities cost-neutral. As a recipient of the grant funding, FareShare is now able to compensate growers for releasing more surplus food through its Surplus with Purpose Fund . This fund offsets any additional cost barriers – for example labour costs, additional processing costs or the expense of packaging and storage. Additionally, FareShare will work with producers to make food redistribution as time efficient as possible.
So what are the benefits for farmers? "As well as helping businesses to reach their sustainability targets, redistributing food to charities is a great way to engage customers and boost staff morale," says Jo Dyson, FareShare's Head of Food. "When you do the right thing, word gets out….and in this case it benefits everyone."
The £3m FareShare Surplus with Purpose Fund is available for a limited time only. To find out more visit fareshare.org.uk/surplus or call 02070648911