Description
The British Protected Ornamentals Association are delighted to announce they will be attending the 50th anniversary celebrations at Four Oaks Trade Show on 6th-7th September this year. Come along and see them in the new Educate, Collaborate and Innovate zone to find out more about what they do.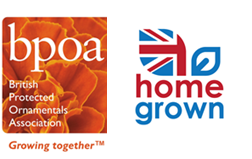 The Responsible Sourcing Scheme are please to announce their attendance at the Four Oaks Trade Show 6 & 7 September 2022.
Formed in advance of the Government's plan to ban the use of peat by the end of 2028, the Responsible Sourcing Scheme is designed to encourage the industry to commit to a sustainable and peat-free future, and to ensure that materials used as an alternative to peat are as responsibly sourced as possible.
Visit their stand to find out more.